Home
›
Promotions and Awards
In Memoriam: Samuel V. Morse
It is with great sadness that I have to announce the passing of Samuel V. Morse, retired member of the 29th Infantry Division. PFC Morse was a long time member of Baker Company and later Charlie Company. He Honorably Discharged a year ago to focus on his studies. Though he had retired, he remained in good standing and in touch with many of us in the 29th. In the 29th Infantry Division he served as Assistant Drill Instructor, along with an impressive array of Arms Qualifications Badges, Awards, Medals and Citations as a sign of his achievements. Those things do not compare to his bright personality that touched many.
Charlie Company Headquarters would like to say that there is no way to compare the 2 individuals Charlie Company has lost recently. All I can say is both were positive, energetic and beyond friendly. Individuals like Morse are the good type of people you rarely meet. The kind of individuals who are supportive, encouraging and inspiring to be around. The kind when you experience them and their kindness, it makes you only wish to find more like him. Even if it was appropriate to say something negative at this time, it would not be possible.
Battalion HQ asked several members of PFC Morse's leadership to say a few words and those are offered below:
Cpl. Vos Said:
Many people come and go in life. Many people leave impacts on others, and PFC Morse was no exception to this. His friendliness and always cheerful attitude shined through like a train coming through a dark tunnel. No matter the circumstance his presence brought light to everyone around him. After a long service in the 29th, his passion was apparent that he desired to help people and things. Though leaving the 29th to pursue his dreams in the realm marine life I remember many talks in TS afterwards of his new ventures. His love for sharks especially. Saying stuff like "how overly concerned people are of sharks, for no reason because there isn't any" and really vouching for them. While talking about it I would reply stuff like, "I would still love to see you try to convince my wife that". Unfortunately that day wont come... I was truly looking forward to his return when he found the time. He was always excited about that. He didn't even have to come out and say it. You could just hear it in voice.

I will miss the random drop ins to team speak with your liveliness and hearing stories of your love of the water. You brought joy to everyone around you. It is always hard to say goodbye to a friend, but sometimes these things just happen. Take it easy Sam Morse. Thank you for your service to the 29th and more so to us!

Salute
SSgt. Savarese [Ret.] Said:
For all those who do and didn't know PFC Morse,

Tonight I was deeply saddened when I was informed that one of my old PFC's from back in my time in the 29th passed away; PFC Morse. As his Platoon Sgt. we spent a decent amount of time together. I will forever remember the countless hours we shared, whether it was pubbing DH with him and watching him go to town on the players with his beloved Tommy gun, to the times we spent together in drills and teamspeak just talking. Even now I can remember the laugh I heard come from his microphone when I showed him my admin commands for spawning a horde of different vehicles and causing mayhem in the server after one drill. He was a lively guy who was infatuated with his submachine guns and tanks, and that should be known. Shortly after my departure from the 29th I lost contact with him along with a lot people I got to know very well. But to hear news like this makes me wish we stayed in contact. We will never and can never forget you Morse, you were always a pleasure to be around.
2Lt. Brewer [Ret.] Said:
I have always said that in spite of the 29th being an online gaming community, the friendships formed within it are very real. This truth rings more evident now as we celebrate the life of one of our former members PFC Samuel Morse. PFC Morse was one of the first members of BP3 when it formed in September of 2013, and he continued as a member close to its end in October 2017. Even though I spent most of my time as his superior, he usually referred to me as "Brew Crew" and I never had the heart to get on to him because I liked the nickname. Simply put, Morse was one of those people who you could never get mad at because he was just a likable person and always had the best intentions. I don't think anyone else spent more time gaming with his squad mates than Morse. Right after drills he would usually invite whoever was around to get into some other game. He really did love the 29th and more importantly, loved the company of those in BP3 or any other platoons of the 29th.

The last time I spoke with Morse we had made informal plans to meet up next time I visited my dad in Florida because he coincidentally went to college very close to where my dad lives. I know I will always regret not getting that opportunity, but I am happy to have known him for the 5 years that I did. I wish the best to his family and friends and I hope they get to see this to know what a positive mark he left on many people's lives who never even got to meet him in person. Hope to finally meet you some day my friend.
2Lt. Perdiew [Ret.] Said:
This is a message that one hopes they will never have to write. PFC Morse was a friend, not just to me but to all of us. With every encounter we shared, I can not think of a single instance where he failed to be positive. When recalling my time with him the first thing that comes to mind was not our instances in the digital trenches together, either in Darkest Hour or in other games; but it was simply enjoying each others company in teamspeak. Among the many 29th'ers I have met, his voice and personality was by far one of the most unique and recognizable. Whenever he came into the channel he would always yell, "LT!!!" As if he was a long lost friend that you were meeting at a pub following a long time apart. No matter how many of us were climbing over each other to be heard in the channel, his voice would always stick out as the most enthusiastic and boisterous.

This is such a tragic loss, worsened by the fact that he was such a young man. Though he may have left this earth, he will live on in our memories and hearts.


Battalion Headquarters is saddened by the sudden loss of such a shining member of the unit and would like to recognize his dedication and contributions to the unit. As such, Battalion HQ will be promoting PFC Morse posthumously to the rank of Technician, Fifth Grade.
Ever Forward, T/5!
---
CERTIFICATION OF PROMOTION
TO ALL WHO SHALL SEE THESE PRESENTS, GREETING:
Know Ye, that reposing special trust and
confidence in the fidelity and abilities of
Samuel V. Morse 072083486 CP1S2
I do promote him to Technician, Fifth Grade in the
UNITED STATES ARMY
to rank as such from the 31st day of July 2018.
You are charged to discharge carefully and diligently the duties of the grade to which promoted and to uphold the traditions and standards of the Army.
Effective with this promotion you are charged to execute diligently your special skills with a high degree of technical proficiency and to maintain standards of performance, moral courage and dedication to the Army which will serve as outstanding examples to your fellow soldiers. You are charged to observe and follow the orders and directions given by superiors acting according to the law, articles and rules governing the discipline of the Army. Your unfailing trust in superiors and loyalty to your peers will significantly contribute to the readiness and honor of the United States Army.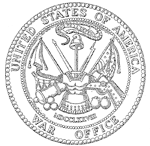 ---