Home
›
Civil Announcements
Command Change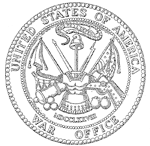 29TH INFANTRY DIVISION
116TH REGIMENT, 1ST BN
HEADQUARTERS DESK
RE: Command Change
Gentlemen,
In a few weeks, I will have had the pleasure of serving in the 29th Infantry Division for 10 years. The opportunity to help a small group of dedicated gamers grow into a massive community of professionals has provided a once-in-a-lifetime experience.
Over the last [way-too-long], the leadership of our officers and NCOs has enabled me to step back from day-to-day command as I focused on the growing demands of my day job. While I've felt guilty for not being nearly as involved as I once was, the feeling that stands out the most is pride - the idea that I don't have to to be involved in the day-to-day command, that an online organization with over 300 members can be run by the cooperation and leadership of our command structure, and the traditions passed down over a decade - this should fill every one of us who's been in leadership, past or present, with great pride.
One soldier in particular has held things together in the midst of crisis and success. He's been informally leading this organization for over 2 years, most notably pushing us through the transition from being focused around a single game to applying our structure and discipline to three different games while maintaining our cohesion as a community. I never would have guessed it while observing the 153rd Training Platoon back in 2006, but this soldier is Major Kyle J. Wheatley.
Today I am humbled and proud to ask such a soldier to take my place in command of the 29th Infantry Division. I'm not going far - there's still work to be done on the forums and personnel system that I've committed to. To that end, I'll join the ranks of the Engineers in the Reserves and keep at it. I've always thought 'Captain' had a nicer ring to it anyway
I hereby promote Kyle J. Wheatley to the rank of Lieutenant Colonel, Commander of First Battalion, 116th Regiment, 29th Infantry Division. Congratulations Lt. Col. - you'll continue to do great things and lead us to victory no matter the front.
Gentlemen, it's been a pleasure.
Ever Forward,