Home
›
Promotions and Awards
In Memoriam: Jeffrey Hauser
This is a post Battalion HQ hopes they never have to write again. We were informed this morning that one of our members, T/5 Hauser, had passed away unexpectedly last night. For those that didn't have the opportunity to know T/5 Hauser, he was an integral part of Charlie Company and CP1, always helping out any way he could. T/5 Hauser was involved in Lighthouse, stepping up in times of limited ADI/DI availability, as well as helping members of the unit troubleshooting issues with their PCs through the Medical Corps. Though he had just returned from a brief retirement, T/5 Hauser had big plans for his future in the 29th, looking to return to his beloved job of Drill Instructor in addition to working with Company HQ to ensure proper server operation. Battalion HQ asked T/5 Hauser's current and previous leadership to say a few words and those are offered below:
2Lt. Nelson said:
Men like T/5 Hauser are few and far between when it comes to dedication and sense of community. We became good pals over our years of service together, and he was always there to lend a helping hand when we needed some extra elbow grease. The guy was talented, reliable, dedicated and brought a lot to our community, both in combat and in TS. His technical skills brought forth numerous patches and videos for CP1, and he was regularly able to help Cpt. Hill with some of the finer bits of coding behind customizing Arma 3. I cannot stress enough how great of an asset T/5 Hauser was to CP1; a true brother-in-arms, he gave us his all.

The sting of his loss is particularly hard for us now, seeing as he had just re-enlisted into CP1S2 after a brief hiatus, and his boys were eager to receive him back into their squad. We are all stricken with grief knowing he has been taken from us yet-again, but this time it's for good. May he rest in peace knowing he was loved for his youthful spirit and gritty game-face, with the character to go to the end's of the earth for a friend. What a guy, what a loss. Ever Forward.


2Lt. Bergstrom said:
I regret that I didn't get to know Jeffrey Hauser better during my time as his Platoon Leader and I hold myself to task for that. One of the facets of being a leader in the 29th is the well-being of your troops. In the virtual world, our priorities of attendance and performance can become all consuming and we can become only semi-aware of the human side. It is terribly important to remember that all of us have our real world lives that we "go home to" after drills end. We have our real world wins and losses, our successes and heartbreaks that shape how we are when we sign in on Teamspeak that night - or if we sign in at all.

But by being a member of this group we must never forget that we are not alone. The squad-mate next to you, the ASL and SL at the front and end of your line, the Platoon Sgt and Leader at the head of the Platoon, the Company standing around you and the Battalion surrounding all of us are with you. We may not all be support workers, but we can be a friendly ear you can blow off steam to. We can offer suggestions and advice to those who seek it. We can share in our real world knowledge and experiences that may help you work at overcoming something that you are struggling with, or we can direct you to those who can.

Hauser was a young man full of potential, he will be greatly missed.


FSgt. Balzer said:
T/5 Hauser was one of those individuals that make this all worth while. His attitude and his personality were positive and infectious. In a fire fight he was a force, and a teammate. I will for a long time remember him laughing after drills about success and failures equally. He was that exact type of guy you wanted to be on a team with. He is the 29th member we all want to be in a squad with. Others will rightly extort his technical skills, time and effort he put in to his 29th career. There are a million times he approached me, excited, asking about things he wanted to build. He did so many things for us. Yet, I will remember his bright personality, giving far more enjoyment than he could ever get.

I have lost a few friends in the last few years. I am sad to say one more has gone to rest. All we rightly wish for is that we could have enjoyed more time. He was a gift to us. He had to step away from the 29th a few times, from us. It was nice to hope he would come back and he did. His loss is especially painful because he had just returned to us. Our only comfort can be in knowing he is at rest. I hope his friends and family outside the 29th will get some solace knowing he brought joy to so many, and will be missed by each and everyone of us.

This is a friend we will miss, Ever Forward!


Battalion Headquarters is saddened by the sudden loss of such a shining member of the unit and would like to recognize his dedication and contributions to the unit. As such, Battalion HQ will be promoting T/5 Hauser posthumously to the rank of Technician, Fourth Grade and will also be adding "Hauser" to the Historic Names List, thus being retired and unable to be duplicated in the future.
Ever Forward, T/4!
---
CERTIFICATION OF PROMOTION
TO ALL WHO SHALL SEE THESE PRESENTS, GREETING:
Know Ye, that reposing special trust and
confidence in the fidelity and abilities of
Jeffrey Hauser 161491571 CP1S2
I do promote him to Technician, Fourth Grade in the
UNITED STATES ARMY
to rank as such from the 6th day of July 2018.
You are charged to discharge carefully and diligently the duties of the grade to which promoted and to uphold the traditions and standards of the Army.
Effective with this promotion you are charged to execute diligently your special skills with a high degree of technical proficiency and to maintain standards of performance, moral courage and dedication to the Army which will serve as outstanding examples to your fellow soldiers. You are charged to observe and follow the orders and directions given by superiors acting according to the law, articles and rules governing the discipline of the Army. Your unfailing trust in superiors and loyalty to your peers will significantly contribute to the readiness and honor of the United States Army.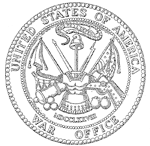 ---